Black Man Told to Leave Pool at His Apartment Complex in Indianapolis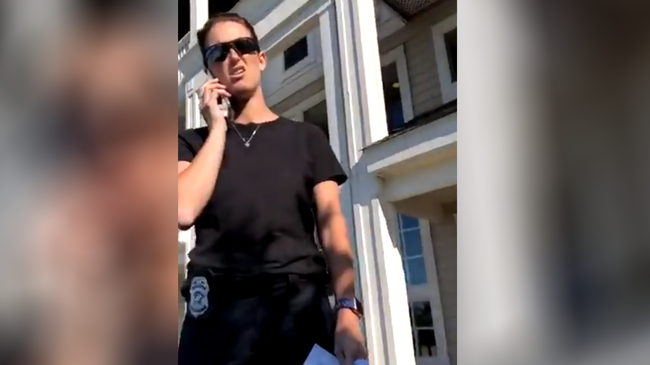 A black man who was asked to leave his own pool by an officer in a new video going viral online says he believes he was the victim of racial profiling.
Indiana resident Shayne Holland was at his apartment complex's community pool relaxing after working out last Friday, when he was approached by an off-duty Indianapolis Metropolitan Police Department officer asking him if he lived in the neighborhood.
"I had my headphones when she approached me so I didn't hear her the first time. When I asked her to repeat herself, she asked if I lived in the neighborhood. I said yes," Holland told the Indianapolis Star. "When she asked where I lived, I said I don't know you and you haven't identified yourself, so I'm not just going to give you my address."
Holland used his cell phone to record the confrontation while he was sitting at the pool at the River Crossing Apartments where he has lived since February 2017.
So yesterday at River Crossing at Keystone at the crossing we were kicked out of the pool and our Bbq was shutdown for no apparent reason as this lady who said she was "property manager" preceded to let every white person that was there stay and only kicked out all black ppl.

I actually live here, so I'm assuming they told the police that it's not too many black people that do so if you see one make sure you get their address. RiverCrossing Apartments.
Holland showed the officer the key he was issued by the apartment complex that allowed him access to the pool, but that wasn't good enough. In the video, the officer can be seen pressing the man for his address.
The officer then contacts the apartment complex's property manager, who confirms that he was indeed a resident there.
"Why do I need to give this lady, who I don't know, my address?" Holland asks, adding that he pays $1,600 in rent every month.
That's when the officer tells Holland to leave the pool.
"Why do I have to leave my pool?" he asked.
The property manager answers that he is being told to leave because he refused to answer the officer's questions.
When Holland again shows the officer his key as proof of residency, the video shows the security guard taking the key out of his hand.
The company that manages the apartment complex addressed the issue with a post on Facebook, saying that the property manager had been placed on leave and that they were investigating the incident.
Holland says he believes the officer was attempting to provoke him into doing something by taking his key from him.
"As a man, I feel like when someone snatches something out of your hand, it natural to want to react," he told the Star. "But I felt like if I moved, anything she felt that was an aggressive or threatening ... she could have used force on me. And that would have been the worst-case scenario.

"(The property manager) and the police officer both had the authority in the situation, but they didn't use it correctly. That is what we complain about."
The incident is similar to a host of others over the last few weeks, including a woman who called the police on a black family grilling in a public park in Oakland, or another woman who called the police on an 8-year-old black girl selling water without a permit, and a property manager who called police on a black man wearing socks in a community pool.
Photo: Getty Images