How NOT To Do Social Media, thanks to Amy's Baking Co.
From the Huffington Post: One has to wonder what possessed Amy and Samy Bouzaglo, the owners of Amy's Baking Company in Scottsdale, Ariz., to behave the way they did on last Friday's episode of "Kitchen Nightmares." It's saying something that host Gordon Ramsay comes off as the reasonable, even-keeled one.
The British chef walked off the program for the first time in the show's history, after the couple's antics and finger pointing proved unsurmountable challenges. Some of the more memorable moments: the couple pocketed the waitstaff's tips, admitted to firing more than 100 people, picked a fight with a customer who'd been waiting an hour for his pizza and served up pre-made frozen raviolis.
More of the story HERE.
Here's just one of the posts from Monday night.....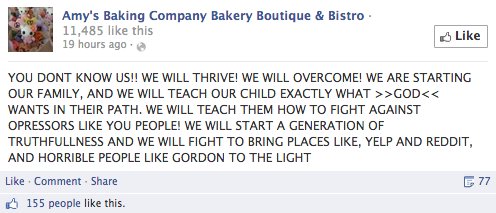 Watch part 2 of the Kitchen Nightmaresepisode featuring their restaurant below: